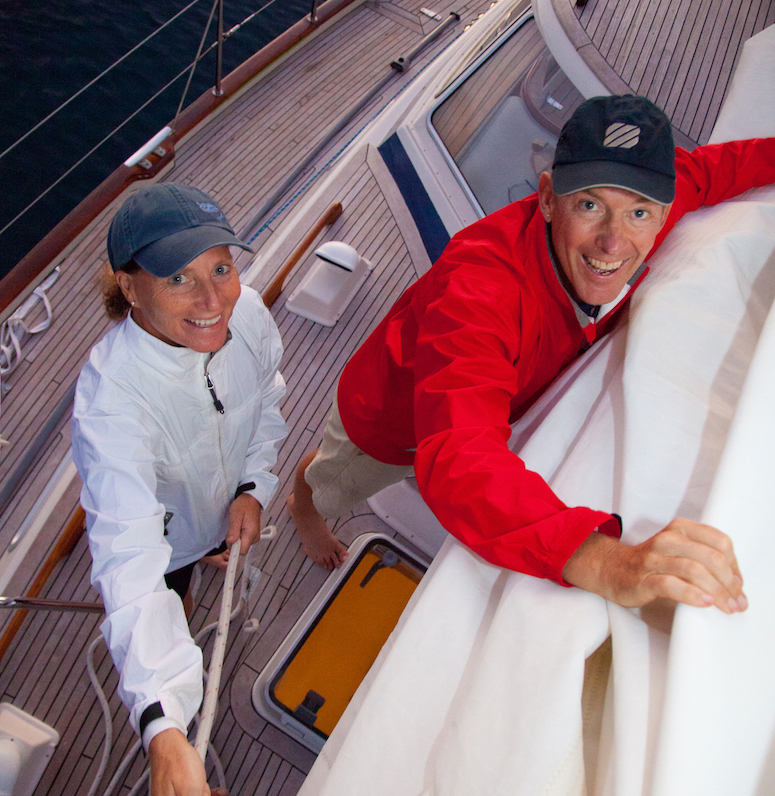 Worldwide cruisers and instructors, John and Amanda Neal, will be joining the 2018 Cruisers College program with their well regarded Offshore Cruising Seminar. The nine-hour seminar details the 18 topics listed below. Each topic has a dedicated PowerPoint presentation that closely follows the seminar's invaluable 260-page Offshore Cruising Companion. This highly-organized format allows you to easily follow, absorb understand plus retain critical information enabling you to save years and thousands of dollars as you prepare for your cruising adventures. Questions are encouraged at the end of each topic and interchange with the instructors and other participants is welcome and encouraged during breaks, lunch and dinner. The course fee includes their 260 page book "Offshore Companion" (normally $60).
John and Amanda spend seven months of the year teaching couples and crews how to cruise the world aboard their Hallberg-Rassy 46 sailboat Mahina Tiare III. This one-day program is based on their knowledge of a combined 645,000 miles of cruising experience all over the world.
From more information and John & Amanda, visit their website.
Seminar Program:
9:00
Boat Selection: Design and Construction Criteria – what makes a boat safe and comfortable for offshore voyaging
9:40
Getting Started in the Cruising Life:Understanding your partner
10:35
Priority Equipment: Outfitting with the gear you REALLY need
11:30
Engines: Spares and Maintenance
11:40
Galley Essentials: We're not talking about camping out!
1:00
Anchors and Anchoring: Five anchoring techniques
1:15
Seamanship: Self reliance, awareness and responsibility
1:35
Storm Survival Tactics: Details of ten specific tactics
2:05
Optional Equipment: Outfitting with the cool gear that makes cruising more comfortable
2:55
Rigging and Sails: Keeping the mast up and sails set
3:15
Medical: Common problems, preventions and treatment
3:35
Communications: Realities of staying in touch
3:50
Psychological: The nuts and bolts of keeping the balance
4:10
Cost of Cruising: How much will this cost? Working while cruising.
4:15
Managing Your Escape: Piracy, firearms and security issues, insurance, pets, keeping a home base
4:40
Clearing into a Foreign Port: Procedures and courtesies
4:50
Leaving your boat in a Foreign Port
5:00
Worldwide Cruise Scenarios
5:30
Graduation Certificate: Questions and answers
6:15
Optional No-host Dinner: Wear your wildest, brightest tropical attire!
John Neal was born on the banks of Africa's Blue Nile River. At the age of 22 his love of adventure and travel fueled a desire to sail to the South Pacific from Seattle aboard his 27′ sloop. Log of Mahina chronicled his voyage and adventures and became a best seller. To answer the question he was frequently asked, "How can I do what you did?" he conducted his first of now 153 Offshore Cruising Seminars in 1976. In 1990, to meet the demand for hands-on offshore instruction, John established Mahina Expeditions with the goal of sharing his knowledge of ocean voyaging in a safe and supportive environment. John has conducted 164 sail-training expeditions aboard his Hallbery-Rassy 42, Mahina Tiare II & his Hallberg-Rassy 46, Mahina Tiare III, sailing 342,000 miles in the South Pacific, Caribbean, Patagonia, Antarctica, Atlantic, Scandinavia and the Arctic. John holds a USCG 100 ton Master's and private pilot License.
Amanda Swan Neal grew up in Auckland, New Zealand and sailed to Vancouver as a teenager aboard a 38′ sloop she helped her parents build. Upon returning to New Zealand, she became a sailmaker for Hoods and transferred professions to rigging with Noake's Rigging in Sydney, Australia then Southern Spars in NZ. In 1990 she completed The Whitbread Around the World Race (now The Volvo Race) as rigger aboard Maiden, the first all-women Whitbread boat. Amanda's 300,000 miles of international sailing include two Sydney-Hobart Races, numerous international regattas and seven Cape Horn roundings intermixed with a ten year involvement in tall ship sail-training. Upon meeting John in 1994 she joined Mahina Tiare for the Cape Horn and Antarctic expeditions. She is author of The Essential Galley Companion and since 2005 has written the monthly Galley Essentials column in 48 North magazine. Amanda enjoys introducing women to the joys of the cruising lifestyle and her personal interests include Celtic step dancing, photography, triathlon training and sewing. She holds a NZ Commercial Launchmaster's license.
Amanda and John spend seven months at sea annually. When not at sea, they enjoy winter kayaking from their island home near Victoria.
Register Via EventBrite